---
With Glrassin 6 months warranty, Membrane Keyboard for Allen Bradley PanelView 1400 2711-K14C Keypad  COLOR TERMINAL 14-INCH Operator Panel Repair Replacement. The Allen Bradley Membrane Switch is 425mm in length, 336mm in width Glrassin Spare Parts are used to maintain HMI Operator/ Touch Panel HMI machine.
Allen Bradley PanelView Standard 1400 Graphic Terminals enable users to display, regulate, and observe application status data graphically. This panel-mount Terminal features a flash card for storing applications as well as many different port versions for varied communication options. These HMIs have a 14 in. monochrome flat-panel display. These terminals support simplified operator input, via touchscreen or via keypad and touchscreen, all operating on the easy-to-use PanelBuilder software.
Please carefully compare the dimensions with your machine and read the shipping and FAQ section before buying.  If you are not sure whether this Keyboard is suitable for your machine, send an email that attaches the picture of your old one with dimensions to us to confirm before you make the order. Our email address is sales@glrassin.com.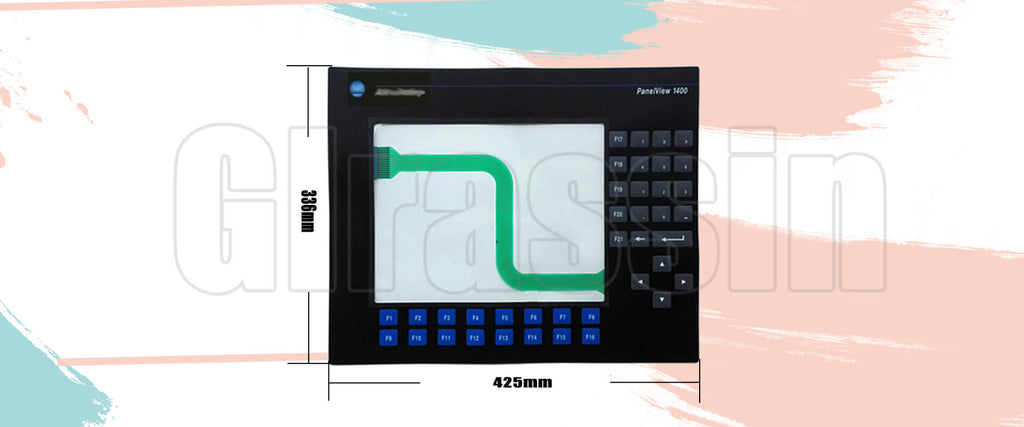 Specific parameters:
| | | | |
| --- | --- | --- | --- |
| Length: | 425mm | Width: | 336mm |
| Warranty: | 6 months | Numberical Key | YES |
| Function Keys: | YES | System Keys: | YES |
| Supply: | Membrane Keypad  | Model: | 2711-K14C |
Suitable for the following Part Number:
Part Number
 D

escription

2711-K14C1
ALLEN BRADLEY 2711K14C1 PANELVIEW OPERATOR INTERFACE W/KEYPAD PANELVIEW 1400 OPERATOR TERMINAL COLOR CRT DISPLAY 14-INCH (35.6 CM) KEYPAD DH+ COMMUNICATION & RS-232 PRINTER PORT
2711-K14C3
ALLEN BRADLEY 2711K14C3 PANELVIEW OPERATOR INTERFACE PV1400 COLOR KEY DH485 RS232
2711-K14C8

ALLEN BRADLEY 2711K14C8 PANELVIEW 1400 OPERATOR TERMINAL COLOR CRT DISPLAY 14-INCH (35.6 CM) KEYPAD DH+ COMMUNICATION & RS-232 PRINTER PORT 100-240V AC POWER NEMA TYPE 12/13 4X (INDOOR USE ONLY) IP54/IP65 PROTECTION
2711-K14C9
ALLEN BRADLEY 2711K14C9 PANELVIEW PV1400 COLOR KEY RS232 (DH485) AND RS232 PRINT
2711-K14C10
ALLEN BRADLEY 2711K14C10 PV1400 COLOR KEY DNET AND RS232 PRINT PANELVIEW 1400 OPERATOR TERMINAL COLOR CRT DISPLAY 14-INCH (35.6 CM) KEYPAD DH+ COMMUNICATION & RS-232
2711-K14C12
ALLEN BRADLEY 2711K14C12 PV1400 COLOR KEY PBUS AND RS232 PRINT PANELVIEW 1400 OPERATOR TERMINAL COLOR CRT DISPLAY 14-INCH (35.6 CM) KEYPAD DH+ COMMUNICATION & RS-232 PRINTER PORT
2711-K14C14
ALLEN BRADLEY 2711K14C14 PANELVIEW 1400 COLOR KEY MBUS RS232 PRINT PANELVIEW 1400 OPERATOR TERMINAL COLOR CRT DISPLAY 14-INCH (35.6 CM) KEYPAD DH+ COMMUNICATION & RS-232 PRINTER PORT
2711-K14C15
ALLEN BRADLEY 2711K14C15 PANELVIEW OPERATOR INTERFACE COLOR KEY 100/240VAC 50/60HZ 20
2711-K14C16
ALLEN BRADLEY 2711K14C16 PV1400 COLOR KEY DF1 AND RS232 PRINT PANELVIEW 1400 OPERATOR TERMINAL COLOR CRT DISPLAY 14-INCH (35.6 CM) KEYPAD DH+ COMMUNICATION & RS-232 PRINTER PORT
2711-K14C20
ALLEN BRADLEY 2711K14C20 OPERATOR INTERFACE KEYPAD COLOR 14INCH ENET&RS232 PANELVIEW