---
With Glrassin 6 months warranty, Membrane Keyboard for Siemens SIMATIC Panel PC 670 12 INCH TFT Display HMI repair replacement. The Membrane keypad is 444mm in length, 289mm in width. Glrassin Spare Parts are used to repair HMI machines.
SIMATIC Panel PC 670 is an industry-standard PC platform for demanding tasks in the field of PC-based automation. The Panel PC is designed for on-site use on the machine, installed for example in 19" cabinets/racks, Control cabinets and consoles,Swivel arms (booms).
Free standard shipping is available for standard delivery of this keyboard. Please carefully compare the dimensions with your machine and read the shipping and FAQ section before buying.  If you are not sure whether this Keyboard is suitable for your machine, send an email that attaches the picture of your old one with dimensions to us to confirm before you make the order. Our email address is sales@glrassin.com.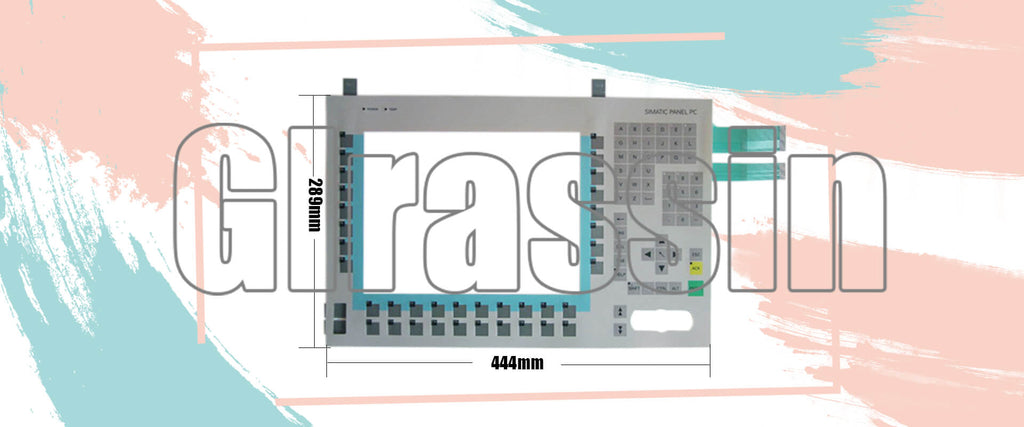 Specific parameters:
| | | | |
| --- | --- | --- | --- |
| Long: | 444mm | Width: | 289mm |
| Warranty: | 6 months | Supply: | Membrane Keypad |
| Numeric Keys: | Yes | Function Keys: | Yes |
| Control Keys: | Yes | Cursor Keys | Yes |
Suitable for the following model:
Part Number
 D

escription

6AV7613-0AB22-0CG0

SIMATIC PANEL PC 670 12" TFT DISPLAY, 20 GB HD, CD-ROM,128MBYTE RAM CPU PENTIUM III 500 MHZ, 115-230V EUROP. SYSTEM CABLE, WINDOWS 2000 MULTI-LANGUAGE (EN,GER,FR,IT,SP)

6AV7613-0AA12-

0AF0

SIMATIC PANEL PC 670 12" TFT DISPLAY, STANDARD CONFIGURATION 20 GB HD, 64 MBYTE RAM, CPU PENTIUM III 500 MHZ, 24 V DC, WIN98 ENGLISH

6AV7723-1BC10-0AD0

SIMATIC PANEL PC 670 STANDARD CONFIGURATION 12" COLOR TFT DISPLAY, 128 MBYTE SDRAM-133 (1X128MB), PENTIUM III 1.26 GHZ, PS PANEL AND FRONT: 115-230V, EURO MAINS CABLE, 40 GB HDD EIDE, DVD-ROM, WINDOWS 2000 MULTI-LANGUAGE

6AV7723-1AC10-0AD0

SIMATIC PANEL PC 670 STANDARD CONFIGURATION 12,1" COLOR TFT DISPLAY, 128 MBYTE SDRAM-133 (1X128MB), CELERON 1,2 GHZ, PS BOX AND FRONT: 115-230V, EUROP. MAINS CABLE, 40 GBYTE HDD EIDE,DVD ROM, WINDOWS 2000 MULTI LANGUAGE

6AV7613-0AA13-0CG0

SIMATIC PANEL PC 670 12" TFT DISPLAY, STANDARD CONFIGURATION 20 GB HD, 64 MBYTE RAM, CPU CELERON 500 MHZ, 115-230 V EUROP. MAINS CABLE, WINDOWS 2000 MULTI-LANGUAGE (EN, GER, FR, IT, SP)



6AV7613-0AB12-0CJ0

SIMATIC PANEL PC 670 12" TF DISPLAY, 20 GB HD+CD-ROM, 64 MBYTE RAM CPU PENTIUM III 500 MHZ, 115-230V EUROP. SYSTEM CABLE, WIN NT 4.0 ENGLISH