---
Sale
With Glrassin 6 months warranty, Membrane Keypad for Allen Bradley PanelView Standard 550 2711-K5 Keypad MonoChrome Graphic Terminals Repair Replacement.
Allen Bradley Panelview 550 Operator interface modules with 5.5" display RS-232 and DH485 communication.
Free standard shipping is available for standard delivery of this keypad. Please carefully compare the dimensions with your machine and read the shipping and FAQ section before buying.  If you are not sure whether this Keyboard is suitable for your machine, send an email that attaches the picture of your old one with dimensions to us to confirm before you make the order. Our email address is sales@glrassin.com.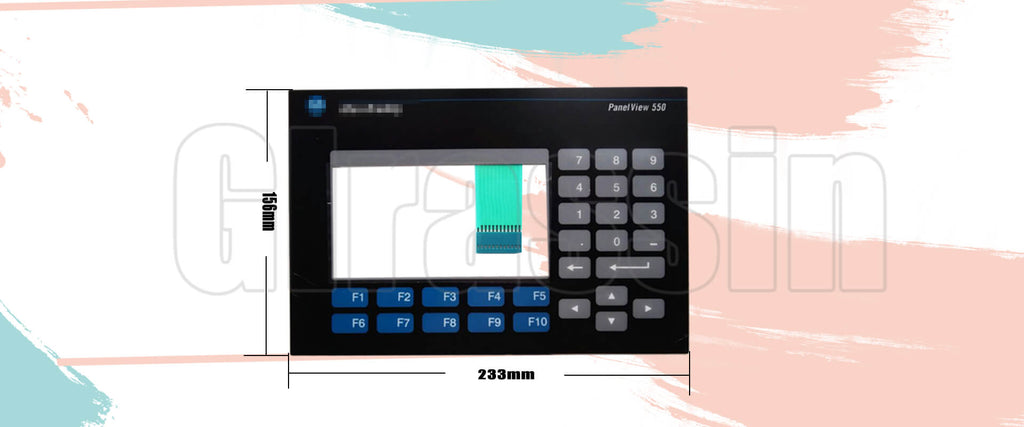 Specific parameters:
| | | | |
| --- | --- | --- | --- |
| Length: | 233mm | Width: | 156mm |
| Warranty: | 6 months | Numberical Key | NO |
| Function Keys: | YES | System Keys: | YES |
| Supply: | Membrane Keypad  | Model: | 2711-K5 |
Suitable for the following Part Number:
Part Number
 D

escription

2711-K5A1

2711-K5A1 

OPERATOR INTERFACEPANELVIEW 550 MONOCHROME 5.5-INCH KEYPAD

2711-K5A1L1

Panelview 550 Series H Monochrome/Keypad

2711-K5A2

Allen Bradley 2711-K5A2 Ser H Rev B FRN 4.41 Panelview 550

2711-K5A2L1

Allen Bradley Panelview 550 monochrome, keypad, dh-485, VDC power.

2711-K5A3

Allen Bradley Panelview 550 RS-232 and DH485 communication.

2711-K5A3L1

Allen Bradley Panelview 550 Keypad MonoChrome 5.5" display RS-232 and DH485 communication

2711-K5A5

Allen Bradley Panelview 550 Keypad Operator Interface, with RS-232 Communication Port

2711-K5A5L1

 Allen Bradley pv 550 monochrome/keypad/rs-232-(dh-485), VDC

2711-K5A8

Allen Bradley Panelview 550 Keypad/Touchpad Operator Interface, with DH+ Communication and RS-232 Printer Port

2711-K5A8L1

2711-K5A8L1 Allen Bradley monochrome/keypad/Data Highway Plus/rs232-printer VDC.

2711-K5A9

Allen Bradley Panelview 550  Keypad/Touchscreen Operator Interface with RS-232 communication and RS-232 printer port.

2711-K5A9L1
ALLEN BRADLEY 2711-K5A9L1 PANELVIEW 550 MONOCHROME KEYPAD RS-232 (DH-485) COMMUNICATION & RS-232 PRINTER PORT DC POWER OPERATOR INTERFACE 5INCH MONOCHROME KEYPAD
2711-K5A10
ALLEN BRADLEY 2711-K5A10 OPERATOR INTERFACE PANELVIEW 550 MONOCHROME TERMINAL 5.5-INCH KEYPAD
2711-K5A10L1

ALLEN BRADLEY 2711-K5A10L1 OPERATOR INTERFACE PANELVIEW 550 MONOCHROME TERMINAL 5.5-INCH KEYPAD DC POWER

2711-K5A12

Allen Bradley Panelview 550 Keypad Operator Interface, with Profibus DP and RS-232 Ports

2711-K5A12L1

Panelview 550 Keypad Interface, with DH+ Communication and RS-232 Printer Port 24v DC

2711-K5A14

2711K5A14  PANELVIEW 550 MONOCHROME TERMINAL 5.5-INCH KEYPADMODBUS COMMUNICATION & RS-232 PRINTER PORT MONOCHROME

2711-K5A14L1

Panelview 550 Keypad Interface, with DH+ Communication and RS-232 Printer Port 24v DC

2711-K5A15

Allen Bradleya panelView 550 monochrome/keypad/controlnet/rs232-pr, ac.

2711-K5A15L1

2711-K5A15L1 Allen Bradley part is a pv 550 monochrome/keypad/controlnet/rs232-pr, ac.

2711-K5A16

2711K5A16 PANELVIEW 550 MONOCHROME TERMINAL 5.5-INCH KEYPAD RS-232 (DF1) COMMUNICATION & RS-232 PRINTER PORT AC POWER

2711-K5A16L1

2711-K5A16L1 PANELVIEW 550 MONOCHROME TERMINAL 5.5 INCH KEYPAD RS-232 (DF1) COMMUNICATION & RS-232 PRINTER PORT DC POWER

2711-K5A20

2711-K5A20 Allen Bradley part is a panelview 550 mono/keypad/Eth./rs232-printer ac.

2711-K5A20X

Allen Bradley Panelview 550 Keypad Operator Interface with EtherNet/IP communication and RS-232 printer port

2711-K5A20L1

Allen Bradley Panelview 550 Keypad Touchscreen Interface with Ethernet 10/100 communication and RS-232 printer port 24v DC