---
With Glrassin 6 months warranty, Membrane Keyboard for Siemens SIMATIC
C7-633 DP or SIMATIC C7-633P Control System repair replacement. The Membrane switch is 230mm in length, 193mm in width. Glrassin Spare Parts are used to repair HMI machines.
The C7-634 P and C7-634 DP control systems have a SIMATIC S7-300
CPU 315 or CPU 315-2 DP as the C7 CPU and an OP 17 as the C7 OP.
The screen display can be configured as follows:

 Four lines of 20 characters with 11 mm character height or
 Eight lines of 40 characters with 6 mm character height.
Free standard shipping is available for standard delivery of this keyboard. Please carefully compare the dimensions with your machine and read the shipping and FAQ section before buying.  If you are not sure whether this Keyboard is suitable for your machine, send an email that attaches the picture of your old one with dimensions to us to confirm before you make the order. Our email address is sales@glrassin.com.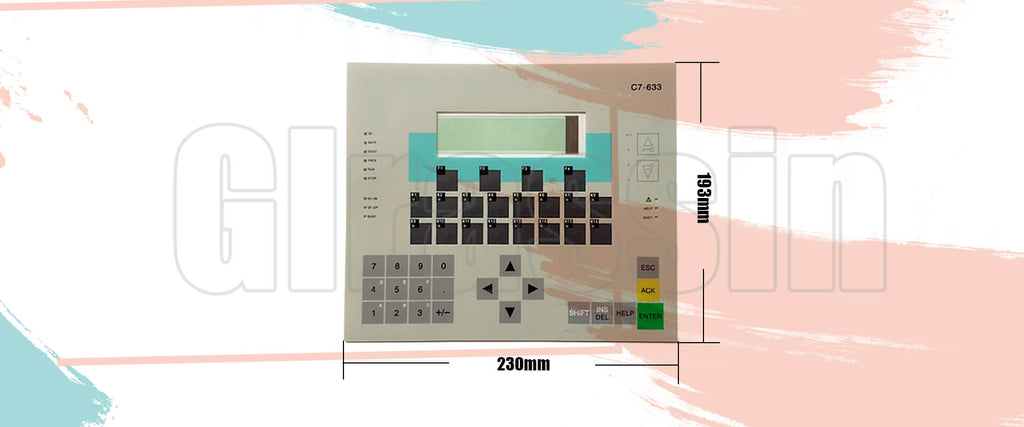 Specific parameters:
Long:
230mm
Width:
193mm
Warranty:

6 months

supply:
Membrane Keyboard

Softkeys:

4

Function Keys:

16

System Keys:

24

Number of LEDs / of which
two-color LEDs
32 / 16
Suitable for the following model:
Part Number
 D

escription

6ES7633-1DF00-0AE3

SIMATIC C7-633/P, COMPACT UNIT WITH INTEGRATED COMPONENTS: S7-300 CPU 315, OP7, IM360 16DI, 16DO, 4AI, 4AO, 4 UI

6ES7633-1DF01-0AE3

SIMATIC C7-633/P, COMPACT UNIT WITH INTEGRATED COMPONENTS: S7-300 CPU 315, OP7, IM360 16DI, 16DO, 4AI, 4AO, 4 UI

6ES7633-1DF02-0AE3

SIMATIC C7-633/P, Complete unit with integrated components: S7-300 CPU 315, OP7, IM 360 16 DI, 16 DO, 4 AI, 4 AO, 4 UI

6ES7633-2BF00-0AE3

SIMATIC C7-633 DP, COMP.STATION WITH INTEGRATED COMPONENTS: S7-300 CPU 315-2DP, SIMATIC OP7 AND IM 360, WITH INTEGRATED PROFIBUS DP INTERFACE

6ES7633-2BF02-0AE3

SIMATIC C7-633 DP,Complete unit with integrated components: S7-300 CPU 315-2DP, SIMATIC OP7 and IM360, with integrated MPI/PROFIBUS DP interface

6ES7633-2BF01-0AE3

SIMATIC C7-633 DP, COMP.STATION WITH INTEGRATED COMPONENTS: S7-300 CPU 315-2DP, SIMATIC OP7 AND IM 360, WITH INTEGRATED PROFIBUS DP INTERFACE

6ES7633-2BJ01-0AE3

SIMATIC C7-633 DP, COMP.STATION WITH INTEGRATED COMPONENTS: S7-300 CPU 316-2DP, SIMATIC OP7 AND IM 360, WITH INTEGRATED PROFIBUS DP INTERFACE

6ES7633-2BJ02-0AE3

SIMATIC C7-633 DP, COMP.STATION WITH INTEGRATED COMPONENTS: S7-300 CPU 316-2DP, SIMATIC OP7 AND IM 360, WITH INTEGRATED PROFIBUS DP INTERFACE

6ES7633-2SE00-0AE3

SIMATIC C7,STARTERKIT C7-633 DP WITH C7-633 DP, ET 200L, STEP7, PROTOOL/LITE AND DOCUMENTATION ON CD