---
With Glrassin 6 months warranty, Membrane Keypad for Siemens SIMATIC Operator Panel OP37 HMI Repair Replacement.  The Membrane switch is 445mm in length, 300mm in width. Glrassin Spare Parts are used to repair HMI machines.
Operator panel OP37/Pro is suitable for sophisticated tasks in the field of "operator
control and monitoring". It is designed as a fitted unit for use directly on
the machine.
Please carefully compare the dimensions with your machine and read the shipping and FAQ section before buying.  If you are not sure whether this Keyboard is suitable for your machine, send an email that attaches the picture of your old one with dimensions to us to confirm before you make the order. Our email address is sales@glrassin.com.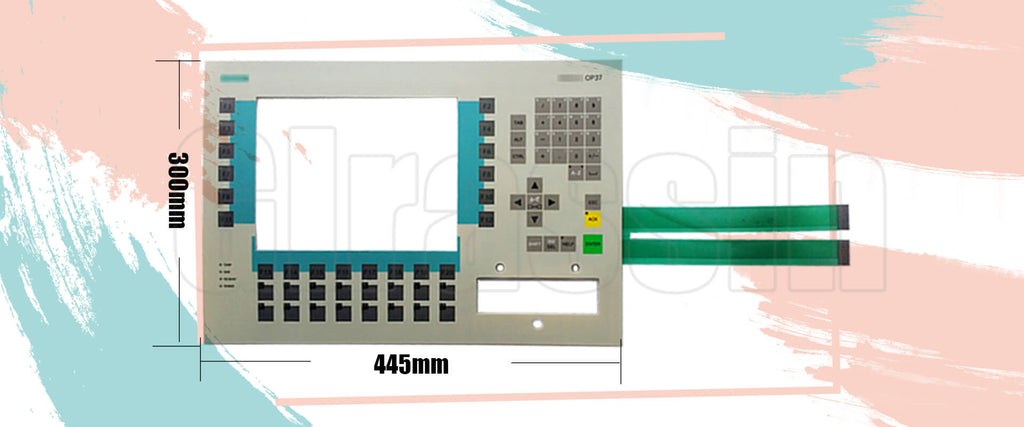 Specific parameters:
Long:
445mm
Width:
300mm
Warranty:

6 months

Soft Keys:
20 Keys 

Function


Keys:

36
(28 with LED)

System

Keys:

36
(28 with LEDs)

Supply:

Membrane Keypad 

Material:

Plastic and Metal
Suitable for the following model:
Part Number
 D

escription

6AV3637-1LL00-0CX0

OP 37 OPERATOR PANEL 100 MHZ PENTIUM, 8 MB RAM WITH LC COLOR GRAPHIC DISPLAY (STN) 850 MB HD, WITH FD

6AV3637-1LL00-0FX0

OPERATOR PANEL OP37 PENTIUM 100 MHZ, 8 MB RAM W. LC COLOR GRAPH. DISPLAY(STN) W/O HD, WITH FD

6AV3637-1LL00-0GX0

OPERATOR PANEL OP37 PENTIUM 100 MHZ, 8 MB RAM W. LC COLOR GRAPH. DISPLAY(STN) 850 MB HD, WITH FD

6AV3637-1ML00-0GX0

OPERATOR PANEL OP37 PENTIUM 100 MHZ, 8 MB RAM W. LC COLOR GRAPH. DISPLAY(TFT) 2.1 GB HD, WITH FD

6AV3637-5AB00-0AC0

OPERATOR PANEL OP37 6AV3637-1LL00-0AX0 CUSTOMISED DESIGN VERSION B PLEASE ADD 6AV3678-1HY20 (NET ONCE-ONLY COSTS) ON ORDER FORM! CUSTOMER VERSION FOR BEUMER

6AV3637-6AA26-0AA0

OEM-OP37, STANDARD HOUSING WITH LEVEL FRONT, W/O FLOPPY COVER P100, TFT COLOR, 640 X 480 PROTOOL

6AV3637-6AB55-0AC0

OEM-OP37 DOS, TOUCH STANDARD HOUSING P75, TFT-COLOR, FD ROM-DOS KEYBOARD CONTROLLER

6AV3637-6AB55-0AC1

OEM-OP37 DOS, TOUCH STANDARD HOUSING + CUSTOMER-SP. DESIGN, P100, COLOR TFT, FD ROM-DOS

6AV3637-6BC44-0AD0

OEM-OP37 DOS, TOUCH STANDARD HOUSING P133, STN-COLOR DISPLAY, FD, HD MS-DOS ENGLISH DIRECT KEYPAD INSTALLED

6AV3637-6AB56-0AH0

OEM-OP37, TOUCH STANDARD HOUSING P100, TFT-COLOR, FD PROTOOL

6AV3637-6BC54-0AD0

OEM-OP37 DOS, TOUCH STANDARD HOUSING P133, TFT-COLOR DISPLAY, FD, HD MS-DOS ENGLISH DIRECT KEYPAD INSTALLED

6AV3637-7AB06-0AE0

OEM-OP37 UPRIGHT HOUSING P75, MONOCHROME, FD RMOS

6AV3637-7AB06-1AEO

OEM-OP37 UPRIGHT HOUSING P100, MONOCHROME, FD RMOS

6AV3637-7AB16-0AE0

OEM-OP37, UPRIGHT HOUSING P100, STN-COLOR, FD, RMOS, CUSTOMIZED DESIGN

6AV3637-7AB16-0AG0

OEM-OP37 UPRIGHT HOUSING P100, STN COLOR, FD RMOS, SPECIAL HOUSING FOR SUPPORTING ARM MOUNTING

6AV3637-7AB16-0AG1

OEM-OP37 UPRIGHT HOUSING P100, COLOR STN, FD RMOS SPECIAL HOUSING FOR SUPPORTING ARM MOUNTING

6AV3637-7AB16-0AM0

OEM-OP37 UPRIGHT HOUSING P100, STN COLOR, FD RMOS, CUSTOMISED DESIGN

6AV3637-7AB26-0AA0

OEM-OP37 UPRIGHT HOUSING P75, TFT-COLOR, FD RMOS

6AV3637-1ML00-0FX0

OPERATOR PANEL OP37 PENTIUM 100 MHZ, 8 MB RAM W. LC COLOR GRAPH. DISPLAY(TFT) W/O HD, WITH FD

6AV3637-1ML00-0CX0

OP37 OPERATOR PANEL 100 MHZ PENTIUM, 8 MB RAM WITH COLOR LCD (TFT) 2.1 GB HD, WITH FD

6AV3637-1ML00-0BX0

OP 37 OPERATOR PANEL 100 MHZ PENTIUM, 8 MB RAM WITH LC COLOR GRAPHIC DISPLAY (TFT) W/O HD, WITH FD

6AV3637-1LL00-0AX1

OPERATOR PANEL OP37 PENTIUM 100 MHZ, 8 MB RAM W. LC COLOR GRAPH.DISPLAY (STN) W/O HD, W/O FD

6AV3637-1LL00-0AX0

OP 37 OPERATOR PANEL 100 MHZ PENTIUM, 8 MB RAM WITH LC COLOR GRAPHIC DISPLAY (STN) W/O HD, W/O FD

6AV3637-7AB26-0AB0

| | |
| --- | --- |
| OEM-OP37 UPRIGHT HOUSING P75, TFT-COLOR DISPLAY, FD RMOS | |

6AV3637-1LL00-0FX1

PERATOR PANEL OP37 PENTIUM 100 MHZ, 8 MB RAM W. LC COLOR GRAPH.DISPLAY (STN) W/O HD, WITH FD

6AV3637-7AB26-0AN0

 OEM-OP37 UPRIGHT HOUSING P100, TFT COLOR, FD RMOS, CUSTOMISED DESIGN

6AV3637-7AB16-1AM0

OEM-OP37 UPRIGHT HOUSING P100, STN-COLOR, FD RMOS CUSTOMER-SPECIFIC DESIGN

6AV3637-7AB26-1AA0

| | |
| --- | --- |
| OEM-OP37 UPRIGHT HOUSING P75, TFT COLOR, FD RMOS, NEW MECHANICAL SYSTEM | |

6AV3637-1LL00-0BX0

P 37 OPERATOR PANEL 100 MHZ PENTIUM, 8 MB RAM WITH LC COLOR GRAPHIC DISPLAY (STN) W/O HD, WITH FD