---
Sale
With Glrassin 6 months warranty, Membrane Keypad for Siemens SINUMERIK operator panel front OP 015A. The Membrane switch is 444mm in length, 334mm in width. This Membrane keyboard with alphabetic, numeric, cursor and control keypad. Glrassin Spare Parts are used to repair HMI machine.
The SINUMERIK OP 015AT operator panel front with 15" TFT color display
and 1024 x 768 pixels (XGA) enables the distributed installation of the operator panel front and the controller. It features a membrane keyboard with 62 keys and 2 x (8 + 2) horizontal and 2 x 8 vertical softkeys and an integrated mouse. The distance to the operator panel fronts is determined by the maximum distance between two network nodes/access points(100 m/328 ft).
Please carefully compare the dimensions with your machine and read the shipping and FAQ section before buying.  If you are not sure whether this Keyboard is suitable for your machine, send an email that attaches the picture of your old one with dimensions to us to confirm before you make the order. Our email address is sales@glrassin.com.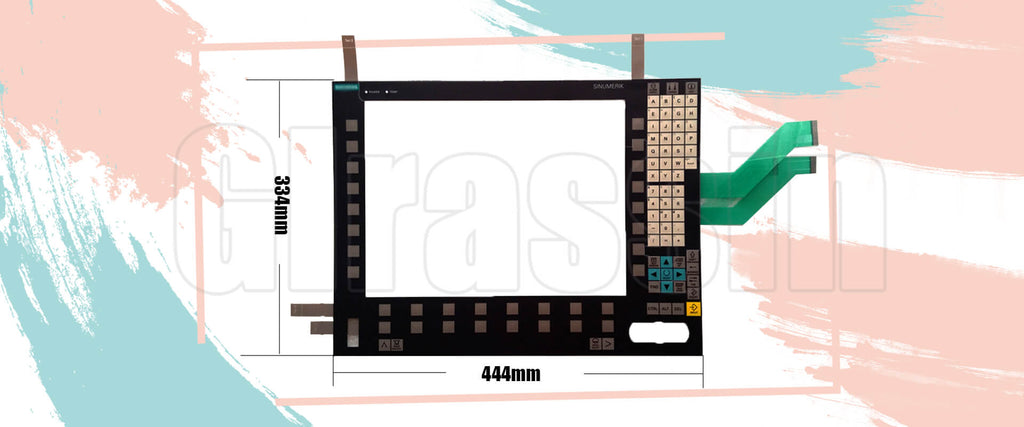 Specific parameters:
| | | | |
| --- | --- | --- | --- |
| Long: | 444mm | Width: | 334mm |
| Warranty: | 6 months | Material: | Plastic and Metal |
| Alphabetic key: | Letters A - Z and the space character | Numeric keys: | Digits 0 - 9, the - character and the decimal point  |
| Cursor keys: | Navigate on the screen. |  Control keys: | Special functions |
Suitable for the following model:
Part Number
 D

escription

6FC5203-0AF08-1AB3

SINUMERIK OPERATOR PANEL FRONT TP 015AT, 15" TFT (1024 X 768) WITH MEMBRANE KEYS, TOUCH AND INTEGRATED TCU 20.2

6FC5248-0AF25-0AA0

SINUMERIK BUTTON COVERS LABELING FOR MCP 416C T / OP 015 SLIMLINE T

6FC5203-0AF05-0AB1

SINUMERIK operator panel front OP 015A, 15" TFT (1024 x 768) LED backlight With membrane keys and mouse

6FC5203-0AF05-1AB1

SINUMERIK OPERATOR PANEL FRONT OP 015AT, 15" TFT (1024 X 768) WITH MEMBRANE KEYS AND INTEGRATED TCU 20.2

6FC5203-0AF05-0AB0

SINUMERIK BEDIENTAFELFRONT OP 015A, 15" TFT (1024 X 768) MIT FOLIENTASTEN UND MAUS

6FC5303-0AF50-6AA0

SINUMERIK OPER. PANEL FRONT OP 015 SLIMLINE T IE, WITH MECHANICAL KEYS AND INTEGRATED MCP, WITH HANDWHEEL AND FEED OVERRIDE, MOUSE

6FC5203-0AF50-6AA0

SINUMERIK OPERATOR PANEL FRONT OP 015 SLIMLINE T, WITH MECHANICAL KEYS AND INTEGRATED MCP, WITH HANDWHEEL AND FEED OVERRIDE, MOUSE; MPI

6FC5203-0AF50-0DA0

SINUMERIK OPERATOR PANEL FRONT OP 015-434C SLIMLINE 3 DMG 15" TFT, 434MM WIDTH, WITH MECHANICAL KEYS

6FC5203-0AF08-0AA0

SINUMERIK OPERATOR PANEL FRONT TP 015A, 15" TFT (1024X768) TOUCH

6FC5203-0AF08-0AB0

SINUMERIK OPERATOR PANEL FRONT TP 015A, 15" TFT (1024 X 768) WITH MEMBRANE KEYS AND TOUCH

6FC5203-0AF08-0AB2

SINUMERIK OPERATOR PANEL FRONT TP 015A, 15" TFT (1024 X 768) WITH MEMBRANE KEYS AND TOUCH

6FC5203-0AF08-1AB2

SINUMERIK OPERATOR PANEL FRONT TP 015AT, 15" TFT (1024 X 768) WITH MEMBRANE KEYS, TOUCH AND INTEGRATED TCU.

6FC5203-0AF08-1AB0

SINUMERIK OPERATOR PANEL FRONT TP 015AT, 15" TFT (1024 X 768) WITH MEMBRANE KEYS, TOUCH AND INTEGRATED TCU

6FC5203-0AF50-0AA0

SINUMERIK OPERATOR PANEL FRONT OP 015-416C 15" TFT, WIDTH 416 MM, WITH MECHANICAL KEYS, FOR MOUNTING VIDEO LINK RECEIVER/TCU

6FC5200-0AC32-1AC5

SINUMERIK- OPERATING PANEL FOR NUMERICAL CONTROLLER SINUMERIK OP015 BLACK 15" LED SINUMERIK MPP 483 IEH-S11 INTEGRATE RUN MYHMI/PRO SW ENERGY MANAGER PRO OPERATE/NCU SW EKS SW EKS ETHERNET-FSA DAIMLER PROJECT-SPECIFIC COMPONENT SUPPLY

6FC5200-0AC32-1AC4

SINUMERIK- OPERATING PANEL FOR NUMERICAL CONTROLLER SINUMERIK PCU 50.5-C SINUMERIK OP015 BLACK 15" LED SINUMERIK MPP 483 IEH-S11 OPERATE/PCU SW-OPTION INTEGRATE RUN MYHMI/PRO SW-OPT ENERGY MANAGER PRO EKS SW-OPTION EKS ETHERNET-FSA DAIMLER projektspezifische Komponentenlieferung