---
Sale
With Glrassin 6 months warranty, Membrane Keyboard for Allen Bradley PanelView Plus 1000 2711P-K10 Color Terminals Repair Replacement. The membrane switch is 380mm in length and 213mm in width. Glrassin Spare Parts are used to repair HMI machine.
The Panelview Plus 1000 Modular design includes logic, display, and communication module Base-configured terminal available with display and logic modules. This Module is Optimized for Logix control architectures and supports PLC-based systems and Supports real-time monitoring of your terminals through a browser. This Module uses RS-232 and Ethernet networks available through t
wo USB ports. 
Please carefully compare the dimensions with your machine and read the shipping and FAQ section before buying.  If you are not sure whether this Keyboard is suitable for your machine, send an email that attaches the picture of your old one with dimensions to us to confirm before you make the order. Our email address is sales@glrassin.com.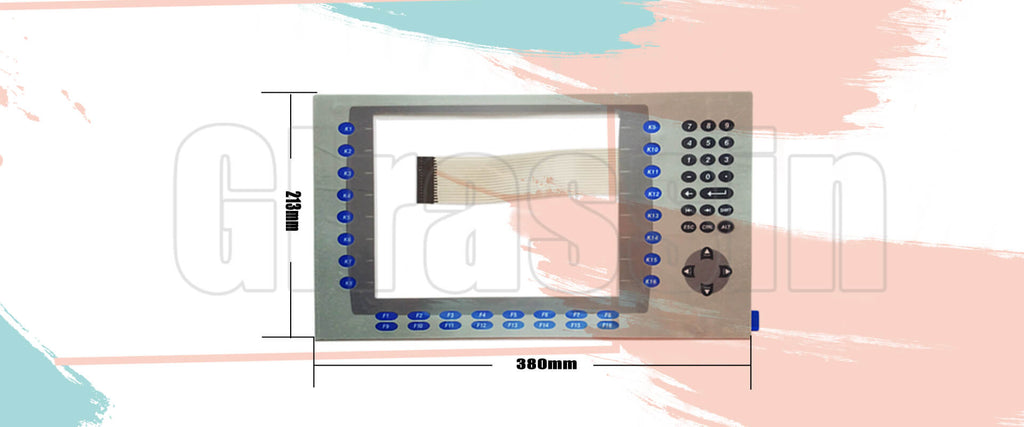 Specific parameters:
| | | | |
| --- | --- | --- | --- |
| Length: | 380mm | Width: | 213mm |
| Warranty: | 6 months | Numberical Key | YES |
| Function Keys: | YES | System Keys: | YES |
| Supply: | Membrane Keypad  | Model: | 2711P-K10 |
Suitable for the following model:
Part Number
 D

escription

2711P-K10C4A1
ALLEN BRADLEY 2711PK10C4A1 OPERATOR INTERFACE 10.4INCH KEYPAD COLOR 1.3-0.65A 100-240VAC 50/60HZ 160VA
2711P-K10C4A2

ALLEN BRADLEY 2711PK10C4A2 PV PLUS 1000 KEYPAD ENET AC PS EXT MEM
2711P-K10C4A6
ALLEN BRADLEY 2711PK10C4A6 PVPCE 10" KEY ENET AC
2711P-K10C4A7
ALLEN BRADLEY 2711PK10C4A7 PVPCE 10" KEY ENET AC
2711P-K10C4B1
ALLEN BRADLEY 2711PK10C4B1 OPERATOR INTERFACE PANELVIEW PLUS 1000 KEYPAD
2711P-K10C4B2
ALLEN BRADLEY 2711PK10C4B2 OPERATOR INTERFACE PANELVIEW W/RS232 ENET & USB
2711P-K10C4D1

ALLEN BRADLEY 2711PK10C4D1 OPERATOR INTERFACE PANELVIEW PLUS 1000 COLOR TERMINAL 10.4 INCH KEYPAD STANDARD COMMUNICATION (ETHERNET AND RS-232) 32 MB FLASH 64 MB RAM 24VDC
2711P-K10C4D2
ALLEN BRADLEY 2711PK10C4D2 OPERATOR INTERFACE TOUCHSCREE AND KEYPAD PANELVIEW PLUS CE 1000 COLOR TERMINAL 10.4 INCH KEYPAD STANDARD COMMUNICATION (ETHERNET AND RS-232) 128 MB FLASH 128 MB RAM DC POWER
2711P-K10C4D6 
ALLEN BRADLEY 2711PK10C4D6 OPERATOR INTERFACE 10INCH KEYPAD ENET DC
2711P-K10C4D7
ALLEN BRADLEY 2711PK10C4D7 OPERATOR INTERFACE 10INCH KEYPAD W/RS232 ENET
2711P-K10C6A1
ALLEN BRADLEY 2711PK10C6A1 PV PLUS 1000 KEYPAD RIO/DH AC PS STD MEM 
2711P-K10C6A2

ALLEN BRADLEY 2711PK10C6A2 OPERATOR INTERFACE 10.4IN DISPLAY 128MB RAM
2711P-K10C6A6
ALLEN BRADLEY 2711PK10C6A6 PVPCE 10" KEY DH+ AC
2711P-K10C6A7
ALLEN BRADLEY 2711PK10C6A7 PVPCE 10" KEY DH+ AC
2711P-K10C6B1
ALLEN BRADLEY 2711PK10C6B1 OPERATOR INTERFACE KEYPAD RIO/DH AC PS STD MEMBRNE
2711P-K10C6B2
ALLEN BRADLEY 2711PK10C6B2 OPERATOR INTERFACE PANELVIEW PLUS 1000 10.4 INCH COLOR DISPLAY KEYPAD ETHERNET PORT 2 USB DH+/DH485 24VDC 70W
2711P-K10C6D1

ALLEN BRADLEY 2711PK10C6D1 OPERATOR INTERFACE PV PLUS 1000 KEYPAD RIO DH DC
2711P-K10C6D2
ALLEN BRADLEY 2711PK10C6D2 OPERATOR INTERFACE W/RIO DH+ DH485 RS232 ENET USB
2711P-K10C6D6
ALLEN BRADLEY 2711PK10C6D6 PVPCE 10" KEY DH+ DC
2711P-K10C6D7
ALLEN BRADLEY 2711PK10C6D7 PVPCE 10" KEY DH+ DC
2711P-K10C15A1
ALLEN BRADLEY 2711PK10C15A1 OPERATOR INTERFACE AC POWER 64MB FLASH 64MB RAM 10.4INCH
2711P-K10C15A2
ALLEN BRADLEY 2711PK10C15A2 PV PLUS 1000 KEYPAD CNET AC PS EXT MEM
2711P-K10C15A6

ALLEN BRADLEY 2711PK10C15A6 PVPCE 10" KEY CNET AC
2711P-K10C15A7 
ALLEN BRADLEY 2711PK10C15A7 PVPCE 10" KEY CNET AC
2711P-K10C15B1 
ALLEN BRADLEY 2711PK10C15B1 PV PLUS 1000 KEYPAD CNET AC PS STD MEM
2711P-K10C15B2 
ALLEN BRADLEY 2711PK10C15B2 PV PLUS 1000 KEYPAD CNET AC PS EXT MEM
2711P-K10C15D1
ALLEN BRADLEY 2711PK10C15D1 OPERATOR INTERFACE PANELVIEW PLUS 1000 COLOR TERMINAL 10.4 INCH KEYPAD CONTROLNET AND STANDARD COMMUNICATION (ETHERNET AND RS-232) 64 MB FLASH 64 MB RAM DC POWER
2711P-K10C15D2
ALLEN BRADLEY 2711PK10C15D2 PANELVIEW TERMINAL PANELVIEW TERMINAL
2711P-K10C15D6
ALLEN BRADLEY 2711PK10C15D6 PVPCE 10" KEY CNET DC
2711P-K10C15D7
ALLEN BRADLEY 2711PK10C15D7 PVPCE 10" KEY CNET DC