---
With Glrassin 6 months warranty, Membrane Keypad for Siemens SIMATIC HMI TD 200
Operator Interface Repair Replacement.  The Membrane switch is 137mm in length, 65mm in width. There are two items of this Keyboard. Before making the order, please check the size of your machine. You can select the Item A or Item B in the option. Glrassin Spare Parts are used to repair HMI machine.
The Text Display 200 (TD 200) is a text display and operator interface for the
S7-200 family of programmable logic controllers. This manual uses the terms
programmable logic controller and S7-200 CPU (or CPU) interchangeably
Free standard shipping is available for standard delivery of this keypad. Please carefully compare the dimensions with your machine and read the shipping and FAQ section before buying.  If you are not sure whether this Keyboard is suitable for your machine, send an email that attaches the picture of your old one with dimensions to us to confirm before you make the order. Our email address is sales@glrassin.com.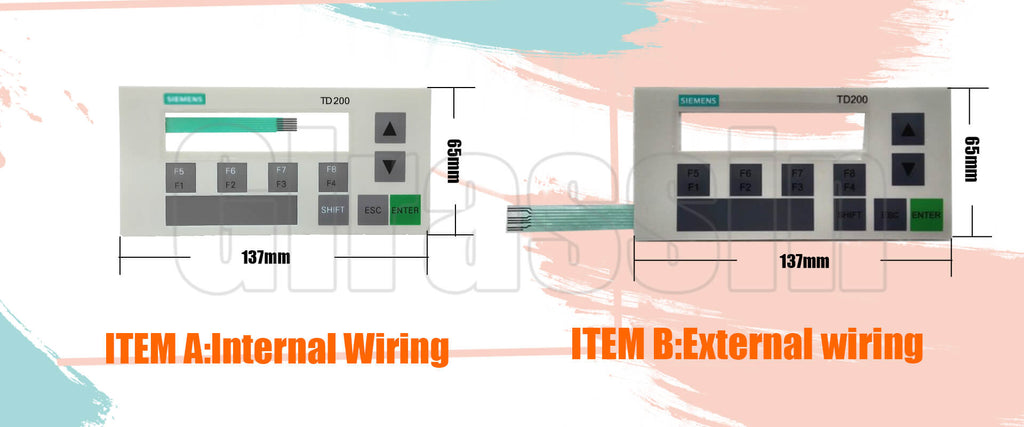 Specific parameters:
| | | | |
| --- | --- | --- | --- |
| Long: | 137mm | Width: | 65mm |
| Warranty: | 6 months | Soft keys: | 10 keys |
| Supply: | Membrane Keypad  | Material: | Platsic and Metal |
Suitable for the following model:
Part Number
 D

escription

6ES7272-1AA10-0YA1

SIMATIC S7-200, TD200C ADJUSTABLE Text Display for S7-200, 2-line, with cable (2.5m) and installation accessories, Configuration: with STEP 7-Micro/WIN without ATEX approval

6ES7272-1AF00-7AA0

TD200C FRONT FILM, BLANK TD200C FRONT FILM, BLANK FOR PRODUCING CUSTOMIZED FRONT LAYOUTS AMOUNT: SEE TECHNICAL DATA

6ES7272-1AA10-0YA0

 SIMATIC S7-200, TD200C ADJUSTABLE Text Display for S7-200, 2-line, with cable (2.5m) and installation accessories, Configuration: with STEP 7-Micro/WIN

6AG1272-1AA10-2YA1

SIPLUS S7-200 TD200C -25...+60°C based on 6ES7272-1AA10-0YA1

6AG1272-0AA30-2YA0

SIPLUS S7-200 TD200 -25...+60°C based on 6ES7272-0AA30-0YA0