---
With Glrassin 6 months warranty, Touch Screen and Membrane Keypad for Siemens SIMATIC MP 277 8" KEY Repair Replacement. The MP277 Membrane switch is 328mm in length, 214mm in width. Glrassin Spare Parts are used to repair HMI machine.
The MP 277 8" Key is operated using the system keys and the function keys. The function assigned to a specific function key is defined during configuration. The function keys have no function prior to the project being opened.
Free standard shipping is available for standard delivery of this keypad. Please carefully compare the dimensions with your machine and read the shipping and FAQ section before buying.  If you are not sure whether this Keyboard is suitable for your machine, send an email that attaches the picture of your old one with dimensions to us to confirm before you make the order. Our email address is sales@glrassin.com.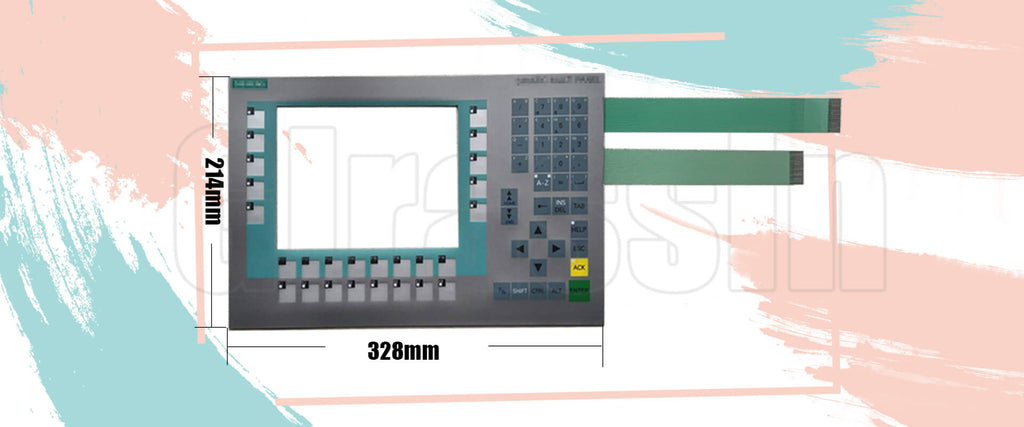 Specific parameters:
| | | | |
| --- | --- | --- | --- |
| Long: | 328mm | Width: | 214mm |
| Warranty: | 6 months | supply: | Membrane Keypad |
| System Key: | YES | Function Keys | YES |
Suitable for the following model:
Part Number
 D

escription

6AV6643-0DB01-1AX1

SIMATIC MP 277 8" Key Multi Panel with retentive memory 7.5" TFT display, 6 MB configuration memory, configurable with WinCC flexible 2005 Standard SP1

6AV6643-0DB01-1AX2

SIMATIC MP 277 8" Key Multi Panel with retentive memory 7.5" TFT display, 6 MB configuration memory, configurable with WinCC flexible 2008 Standard SP3 Update 5 WinCC Comfort V13 HSP

6AV6643-0DB01-1AX5

SIMATIC MP 277 8" KEY MULTIPANEL, W. SMALL FRAME 7,5" TFT DISPLAY, 6 MB USER MEMORY, CONFIG. WITH WINCC FLEXIBLE 2005 STANDARD SP1

6AV6643-0DB01-1AX0

SIMATIC MP 277 8" KEY MULTIPANEL, 7,5" TFT DISPLAY, 6 MB USER MEMORY, CONFIG. WITH WINCC FLEXIBLE 2005 STANDARD SP1