---
With Glrassin 6 months warranty, Membrane Keyboard for Siemens SIMATIC Panel PC 677 12 INCH TFT Display HMI repair replacement. Glrassin Spare Parts are used to repair HMI machines.
Siemens SIMATIC Panel PC 677 12" TFT Display HMI Color display with backlighting:
– 12'' TFT technology with 800 x 600 resolution
• Membrane keyboard with alphanumeric keys, numeric keys, cursor keys and control keys
• Function keys and softkeys
• Integrated mouse
• LEDs for power supply, temperature, softkeys, <Shift> and <ACK> function keys and
buttons
• Front-mounted USB 2.0 interface for connecting external I/O devices
Free standard shipping is available for standard delivery of this keyboard. Please carefully compare the dimensions with your machine and read the shipping and FAQ section before buying.  If you are not sure whether this Keyboard is suitable for your machine, send an email that attaches the picture of your old one with dimensions to us to confirm before you make the order. Our email address is sales@glrassin.com.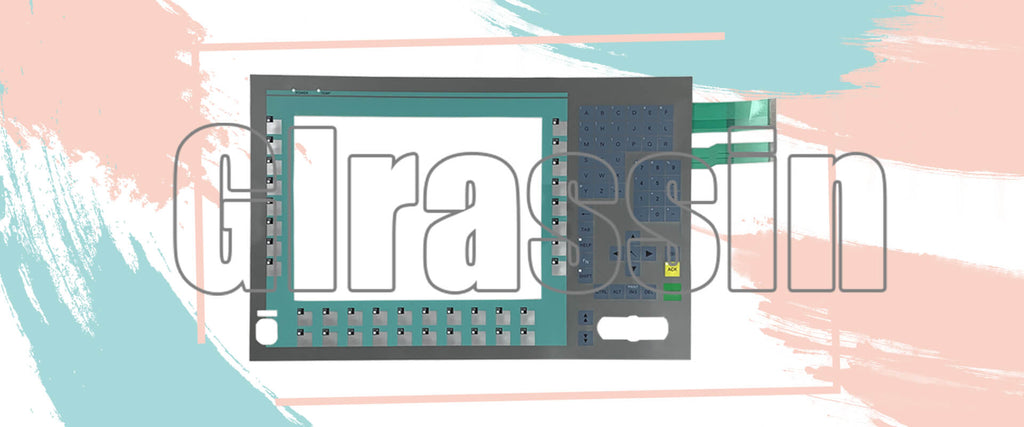 Specific parameters:
| | | | |
| --- | --- | --- | --- |
| Warranty: | 6 months | Supply: | Membrane Keypad |
| Numeric Keys: | Yes | Function Keys: | Yes |
| Control Keys: | Yes | Cursor Keys | Yes |
Suitable for the following model:
Part Number
 D

escription

6AV7801-0BB10-1AA0

SIMATIC PANEL PC 677 12" KEY; 800X600; STANDARD AC110-230V, POWER CABLE EUROPE PENTIUM M770/1.6 GHZ; 533 MHZ FSB; 2MB SLC; 512MB DDR266 SDRAM (1X512MB); 80 GBYTE SATA HARD DRIVE (3.5") DVD-ROM; W/O OPERATING SYSTEM

6AV7801-0AA00-1AC0

SIMATIC PANEL PC 677 12" KEY; 800X600; STANDARD DC 24V; CELERON M370/1.5 GHZ; 400 MHZ FSB; 1MB SLC; 256MB DDR266 SDRAM (1X256MB); 80 GBYTE SATA HARD DRIVE (3.5") DVD-ROM; WINDOWS XP PROF MUI (EN,GE,FR,IT,SP,JP,CHN,KOR

6AV7871-0AA10-1AC0

SIMATIC Panel PC 677B 2x10/100/1000 Mbit/s Ethernet; 4 x USB V2.0, 1x serial (COM1); 12" Key; 800 x 600; with front-side USB interface 24 V DC power supply; Celeron M440/1.86 GHz; 1 MB SLC, 2xPCI; 512 MB DDR2 RAM; 160 GB SATA HDD 3.5", DVD +-R +-RW; PROFIBUS/MPI, 2 MB buffered SRAM; Windows XP Prof. MUI (de,en,fr,es,it,ja,zh,ko), only with hard disk

6AV7871-0BC20-1AC0

SIMATIC Panel PC 677B 2x10/100/1000 Mbit/s Ethernet; 4 x USB V2.0, 1x serial (COM1); 12" Key; 800 x 600; USB interface at the front 110/230 V AC power supply with NAMUR, power supply cable Europe; Core 2 Duo T5500, 1.66 GHz; 2 MB SLC, 2 x PCI; 1 GB DDR2 RAM; 160 GB SATA HDD 3.5", DVD +-R +-RW; PROFIBUS/MPI; Windows XP Prof. MUI (de,en,fr,es,it,ja,zh,ko)

6AV7451-0AB00-0BT0

SIMATIC PANEL PC 677 12" KEY; WITH CUSTOMIZED DESIGN B ONLY FOR CUSTOMER SCHULER BASED ON: 6AV7801-0BA10-1AC0

6AV7451-0AB00-0JD0

SIMATIC PANEL PC 677 12" KEY; 800X600; 24V DC, BASED ON: 6AV7801-0AB00-0AC0 WITH CUSTOMIZED DESIGN FOR CUSTOMER METREL ONLY