---
Sale
With Glrassin 6 months warranty, Touch Screen and Membrane Keypad for Siemens SIMATIC HMI Operator Panel OP170 Repair Replacement.The OP170 Membrane switch is 132mm in length, 176mm in width. Glrassin Spare Parts are used to repair HMI machine.
The standard input device for the 6AV6542-0BB15-2AX0 OP 170B is the keyboard. This is basically composed of two key groups:
Function keys (F1 to F14 and K1 to K10) 
The softkeys can only be assigned in a configuration. They have no function in the loader.
System keys
The numeric keypad and control keys are system keys.
Free standard shipping is available for standard delivery of this keypad. Please carefully compare the dimensions with your machine and read the shipping and FAQ section before buying.  If you are not sure whether this Keyboard is suitable for your machine, send an email that attaches the picture of your old one with dimensions to us to confirm before you make the order. Our email address is sales@glrassin.com.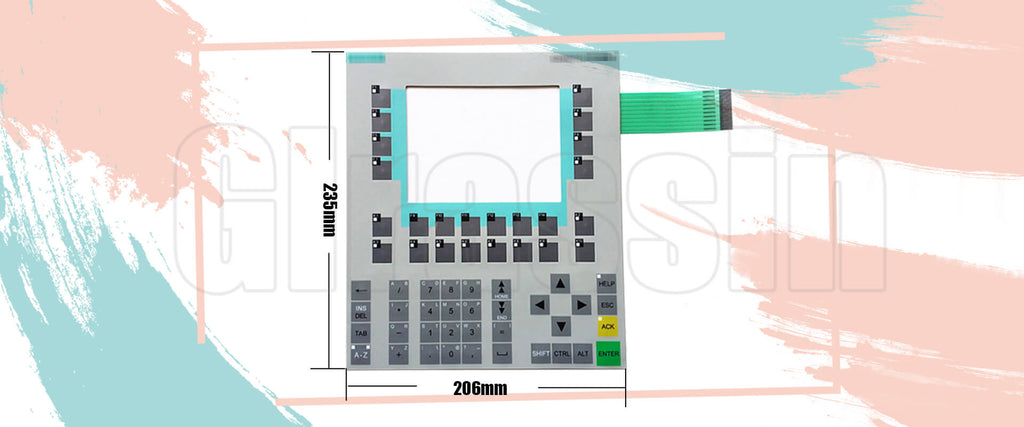 Specific parameters:
Long:
206mm
Width:
 235mm
Warranty:

6 months

supply:
Membrane Keypad


Function Keys

F1 to F14 and K1 to K10 


System

Keys

Numeric keypad and Control keys

Soft keys
24

Material

Plastic and metal
Suitable for the following model:
Part Number
 D

escription

6AV6542-0BB15-2AX0

SIMATIC Panel OP 170B blue mode STN display MPI/PROFIBUS DP interface Printer interface Slot for CF card configurable with ProTool/Lite as of Version V5.2+SP2