---
With Glrassin 6 months warranty, Touch Panel for Allen Bradley PanelView Plus 700 2711P-T7 GRAYSCALE Terminals Repair Replacement. The Panelview Plus 700 Touchscreen glass is 151mm in length, 117mm in width. Glrassin Spare Parts are used to repair HMI machine.
The PanelView Plus 700 series of Allen-Bradley/Rockwell Automation industrial terminals is a series of intuitive and powerful operator interface devices that are certified for usage in hazardous locations.
Free standard shipping is available for standard delivery of this Touch Screen. Please carefully compare the dimensions with your machine and read the shipping and FAQ section before buying.  If you are not sure whether this screen is suitable for your machine, send an email that attaches the picture of your old one with dimensions to us to confirm before you make the order. Our email address is sales@glrassin.com.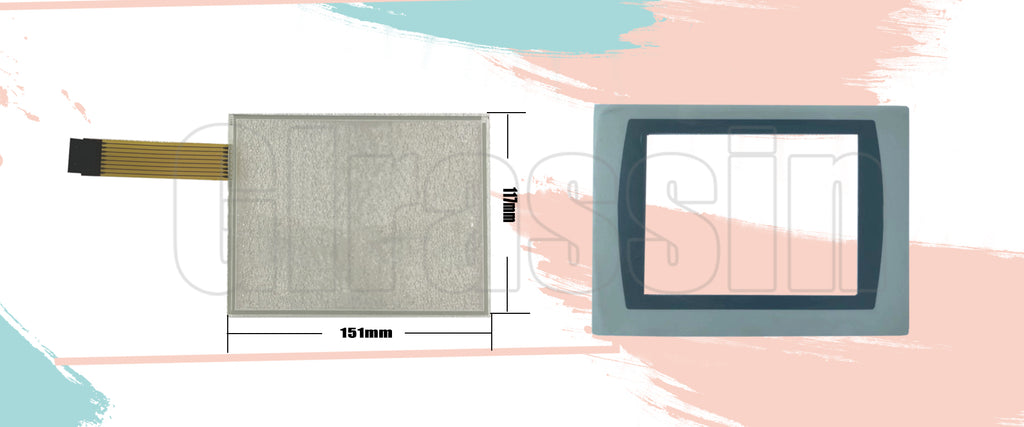 Specific parameters:
| | | | |
| --- | --- | --- | --- |
| Warranty: | 6 months | Type: | Rsistive Screen |
| Length: | 151mm | Width: | 117mm |
| Supply: | Touch Screen | Model: | 2711P-T7 |
Suitable for the following model:
Part Number
 D

escription

2711P-T7C4A1
ALLEN BRADLEY 2711PT7C4A1 OPERATOR INTERFACE PANELVIEW PLUS 700 COLOR TERMINAL 6.5 INCH TOUCH SCREEN STANDARD COMMUNICATION (ETHERNET AND RS-232) 64 MB FLASH 64 MB RAM AC POWER
2711P-T7C4A2
ALLEN BRADLEY 2711PT7C4A2 DISCONTINUED BY MANUFACTURER OPERATOR INTERFACE PANELVIEW PLUS 700 TOUCH SCREEN
2711P-T7C4A6
ALLEN BRADLEY 2711PT7C4A6 OPERATOR INTERFACE PANELVIEW PLUS 700 TOUCH SCREEN
2711P-T7C4A7
ALLEN BRADLEY 2711PT7C4A7 OPERATOR INTERFACE PANELVIEW PLUS 700 TOUCH SCREEN
2711P-T7C4B1
ALLEN BRADLEY 2711PT7C4B1 OPERATOR INTERFACE PANELVIEW PLUS 700 TOUCH SCREEN
2711P-T7C4B2
ALLEN BRADLEY 2711PT7C4B2 OPERATOR INTERFACE PANELVIEW PLUS 700 TOUCH SCREEN
2711P-T7C4D1
ALLEN BRADLEY 2711PT7C4D1 OPERATOR INTERFACE PANELVIEW PLUS 6.5IN TOUCHSCREEN COLOR 24VDC ETHERNET AND RS-232 COLOUR UNIT 64MB FLASH 64MB RAM
2711P-T7C4D2
ALLEN BRADLEY 2711PT7C4D2 OPERATOR INTERFACE PANELVIEW PLUS 700 6.5INCH TOUCHSCREEN COLOR
2711P-T7C4D2K
ALLEN BRADLEY 2711PT7C4D2K OPERATOR INTERFACE PANELVIEW PLUS 700 6.5 INCH SCREEN CONFORMAL COATED
2711P-T7C4D6
ALLEN BRADLEY 2711PT7C4D6 OPERATOR INTERFACE PANELVIEW PLUS 700 6.5INCH TOUCH SCREEN 24VDC
2711P-T7C4D6K

ALLEN BRADLEY 2711PT7C4D6K OPERATOR INTERFACE PANELVIEW PLUS 700 TOUCH SCREEN CONFORMAL COAT
2711P-T7C4D7
ALLEN BRADLEY 2711PT7C4D7 OPERATOR INTERFACE PANELVIEW PLUS 700 TOUCH SCREEN 6.5 INCH TOUCHSCREEN
2711P-T7C6A1
ALLEN BRADLEY 2711PT7C6A1 OPERATOR INTERFACE PANELVIEW PLUS 700 TOUCH SCREEN
2711P-T7C6A2
ALLEN BRADLEY 2711PT7C6A2 OPERATOR INTERFACE PANELVIEW PLUS 700 TOUCH SCREEN RIO/DH
2711P-T7C6A6
ALLEN BRADLEY 2711PT7C6A6 OPERATOR INTERFACE PANELVIEW PLUS 700 TOUCH SCREEN
2711P-T7C6A7
ALLEN BRADLEY 2711PT7C6A7 OPERATOR INTERFACE PANELVIEW PLUS 700 TOUCH SCREEN
2711P-T7C6B1
2711P-T7C6B1 2711PT7C6B1 OPERATOR INTERFACE PANELVIEW PLUS 700 6.5 INCH SCREEN
2711P-T7C6B2
ALLEN BRADLEY 2711PT7C6B2 OPERATOR INTERFACE PANELVIEW PLUS 700 TOUCH SCREEN
2711P-T7C6D1
ALLEN BRADLEY 2711PT7C6D1 OPERATOR INTERFACE PANELVIEW PLUS 700 6.5 INCH TOUCH SCREEN
2711P-T7C6D2
ALLEN BRADLEY 2711PT7C6D2 OPERATOR INTERFACE PANELVIEW PLUS 700 TOUCH SCREEN
2711P-T7C6D6
ALLEN BRADLEY 2711PT7C6D6 OPERATOR INTERFACE PANELVIEW PLUS 700 TOUCH SCREEN
2711P-T7C6D7
ALLEN BRADLEY 2711PT7C6D7 OPERATOR INTERFACE PANELVIEW PLUS 700 TOUCH SCREEN
2711P-T7C15A1
ALLEN BRADLEY 2711PT7C15A1 OPERATOR INTERFACE PANELVIEW PLUS 700 TOUCH SCREEN
2711P-T7C15A2
ALLEN BRADLEY 2711PT7C15A2 OPERATOR INTERFACE PANELVIEW PLUS 700 TOUCH SCREEN
2711P-T7C15A6
ALLEN BRADLEY 2711PT7C15A6 OPERATOR INTERFACE PANELVIEW PLUS 700 TOUCH SCREEN
2711P-T7C15A7
ALLEN BRADLEY 2711PT7C15A7 OPERATOR INTERFACE PANELVIEW PLUS 700 TOUCH SCREEN
2711P-T7C15B1
ALLEN BRADLEY 2711PT7C15B1 OPERATOR INTERFACE PANELVIEW PLUS 700 TOUCH SCREEN
2711P-T7C15B2
ALLEN BRADLEY 2711PT7C15B2 OPERATOR INTERFACE PANELVIEW PLUS 700 TOUCH SCREEN
2711P-T7C15D1
ALLEN BRADLEY 2711PT7C15D1 OPERATOR INTERFACE PANELVIEW PLUS 700 6.5IN COLOR TOUCH SCREEN 24VDC
2711P-T7C15D2
ALLEN BRADLEY 2711PT7C15D2 OPERATOR INTERFACE PANELVIEW PLUS 700 TOUCH SCREEN
2711P-T7C15D6
ALLEN BRADLEY 2711PT7C15D6 OPERATOR INTERFACE PANELVIEW PLUS 700 TOUCH SCREEN
2711P-T7C15D7
ALLEN BRADLEY 2711PT7C15D7 OPERATOR INTERFACE PANELVIEW PLUS 700 TOUCH SCREEN